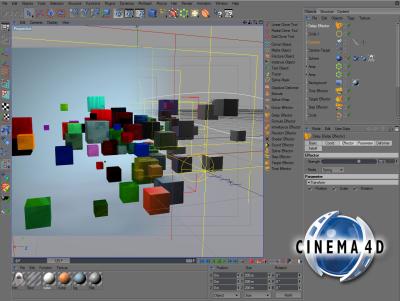 Maybe some of you had to deal with motion graphics. And i know those who did, sometimes worked really hard on some specialfx. These times are over now.
MAXON
came up with a great solution calle MoGraph. Within MoGraph you are able to do specialfx in mo time. The combinations are also endless (i mean
endless
).
So to give you an idea of the capabilities of MoGraph, please watch the following
MoGraph Reel
, which will give you a small idea of what this new modul is able to do.
When i first started using MoGraph i realized that this is something totally different then all the other solutions (well there is/was only one other solution). Whenever i'm on a tradeshow people ask me what MoGraph does. Well this is a bit tricky question :) MoGraph is able to do allot. But where do you start with explanation ??? Ok let me start with the absolute basic objects and tools.
Check out the official
MAXON
MoGraph highlights tour
here
.
Very talented motion designers work with MoGraph to save alot of time when it comes to very short deadlines.
If you want to see more motion graphics in action, please have a look at
Hypa.tv
.
Ohh, before i forgett :) I'll add some Tips&Tricks about MoGraph asap. The above screenshot shows a complex scene setup with almost every effector available in MoGraph.
cheers
David
neosushi - 19. Jun, 07:54